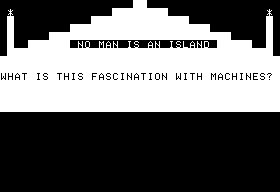 With all the great in-browser software emulation emerging over the last few years I thought I'd take a cue from Jim regarding The Prisoner game released for Apple II and see if I could find an emulated version.
30 minutes into my search I not only found .dsk files for both The Prisoner and The Prisoner 2, but a great piece from The Digital Antiquarian that digs into the backstory of the game developments.  Some great bits:
It consists of some 30 individual BASIC programs which are shuffled in and out of memory as needed by a machine-language routine, the only non-BASIC part of the structure.
Throughout all this the game is constantly trying to get us to reveal our resignation code, through ploys obvious and subtle. The most devious of all comes when we visit the Hospital. In the midst of an absurd free-association personality test, we are suddenly dropped to BASIC with an apparent error message. The natural reaction to the above would be to LIST line 943 to see what the problem might be. If we do, however, we have just lost. The number 943 is of course our resignation code, and we have just been tricked into revealing it. There was never any real error at all; we are still in the program. We are still the Prisoner.
There isn't much different between 'The Prisoner' and 'The Prisoner II' – story is essentially the same with 'The Prisoner II' adding a first person perspective to the maze/map puzzles.
If you are digging #prisoner106 give 'The Prisoner' a shot by downloading this prisoner.dsk file and loading it into this javascript-powered Apple II emulator.
'The Prisoner II' is available at archive.org and offered via MESS below:
To hell with weekly roundups … looks like I'm more of a 'bi-weekly roundup' kinda blogger.
Reading
Fun
Books
Film
Listening
Made the first jump into weekly roundups last month .. this one is more like a 'month roundup' … and a very eventful month at that.
My month began with 14 days off the job.  Much remains to be seen.
Reading
Fun
Books
Film
Listening
There's an implied max/min problem here: the intersection of a curve representing the amount of wealth you need to spend on guards to maintain stability in the presence of a widening rich/poor gap and the amount you can save on guards by creating social mobility through education, health, and social welfare is the point at which you should stop paying for cops and start paying for hospitals and schools.

This implies that productivity gains in guard labour will make wider wealth gaps sustainable. When coercion gets cheaper, the point at which it makes "economic sense" to allow social mobility moves further along the curve. The evidence for this is in the thing mass surveillance does best, which is not catching terrorists, but disrupting legitimate political opposition, from Occupy to

the RCMP's classification of "anti-petroleum" activists as a threat to national security

.