I attend many conferences in the span of a year, but Northern Voice stands in a class all its own attracting dynamic, smart, creative people from diverse fields to share ideas and explore new territories.
This year I made a conscious effort to keep Evernote close at hand in the conference sessions and in hallway/lunchtime chats to ensure brilliant recommendations and referrals didn't pass through the oftentimes porous vessel that is my memory.
This post is a Jambalaya made from these notes; books, movies, songs, tools, methods, and ideas.
.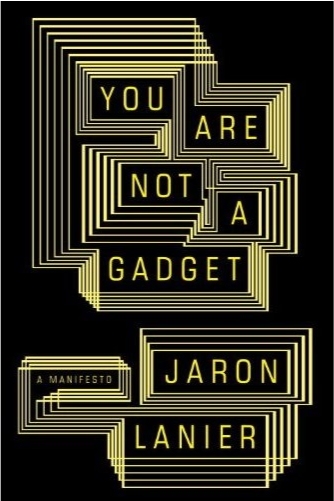 Over the course of a coffee break I had the good fortune to talk humanism & technology with Scott Leslie who highly recommended You Are Not A Gadget by Jaron Lanier. I look forward to exploring Lanier's ideas on the importance of  preserving and celebrating the creativity of the individual in media ecosystems that seem increasingly designed for tech mediated 'crowdsourcing'.
.
It was at Northern Voice '09 that I had the pleasure to meet and witness Nancy White demonstrate graphic recording.  This year I attended a Online Community Enthusiasts Conference facilitated by Nancy the day before Northern Voice and paid close attention to the methods Nancy used to bring richness to the color and form of her graphics.  This year I witnessed a further diversification of graphic visualization to electronic devices.
Although I have played with a number of apps in browsers and on mobiles, I wasn't sold on the viability of electronics for effective freeform drawing. During an altmoosecamp session ( … again, props to Scott Leslie for organizing sessions jam packed with great ideas and discourse … ) Rob Cottingham shared his experiences in the evolution of his Noise to Signal webcomic.  I was quite surprised to learn how effective and versatile cartooning on screens have become through the use of large format tablets and electrostatic pens like the Pogo.  The clincher that really sold me on the power and flexibility of graphic visualization using digital tools were the great drawings done by Rachel Smith using her iPad.  I have already ordered an electrostatic pen, and am looking forward to seeing how it might also be used in Mathematics education as a effective precision writing tool for digital screens and webcasting.
.
I take LOTS of pictures, but don't consider myself a photographer by any stretch.  My only camera is my iPhone camera.  This year's Photocamp featured some great talks – among which was a presentation by Bev Davies who reflected on her experiences as photographer for innumerable punk rock bands that have played in and around Vancouver over the last 30 years.  One Photocamp talk covered time lapse photography.  I figured I would check to see if the iPhone offered a timed snapshot / stitching app for time lapse video.  Turns out there are a few – the short video on the left is made of 60 photos taken every 5 seconds from an iPhone poked through the sunroof of a car driving from UBC towards East Van.
.
.
.
Playing music on the back deck of Casa Lamb y McPhee is such a treat – I look forward to the warmth, comfort, and sense of family I feel when there.  Playing Jonathan Richman on the back deck with a chorus of willing vocalists followed by added vocals from the neighbours below was a golden moment.  Wilco's Passenger Side was one of the songs that came out of the many jams.  I absolutely love talking music with Brian ( … seriously think I should start an interlibrary loans system between our vinyl stacks … ) and during our conversations he mentioned that a movie had been made called Passenger Side.  Both the film and the soundtrack look fantastic.
.
Although my attendance at Northern Voice informs my professional practice as an educator immensely, it is my heart that gains most.  Sharing laughter, music, food, and drink with people I consider not only my peers and mentors, but closest friends.  To the organizers of Northern Voice 2010 – thank you for an excellent experience. The winter of 2009/10 was long and difficult for me and the happy memories made over the days in Vancouver have threw open the shutters of Summer for me and sent me back to work with a full mind and a full heart.
.